Placing The Right Content On An E-Commerce Website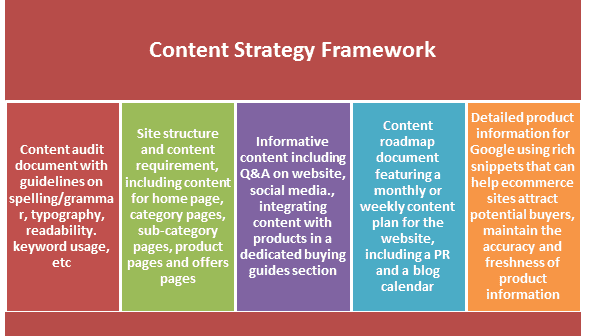 E-commerce businesses must think about the type of content that they place on their website if they sell products to customers. That way, those companies can provide clients and potential customers with information about how a product or service can address a person's needs as well as why the business believes that its current line of products and services are effective at addressing the problems that a consumer is facing. Lastly, thinking about the type of content that a company should place on its e-commerce website allows e-commerce firms to provide people with information about why they are in business and how they plan to address a person's needs.
E-commerce enterprises must place information on their website that talks about the products that they sell. For example, if a business sells a technological product, like a vacuum cleaner, to customers for personal use, then the firm must place that product on its website and provide information about that the organization likes about that vacuum cleaner. Businesses must place this content on their website because this strategy allows them to provide website visitors with information about why that device is effective at addressing someone's cleaning needs, such as cleaning deep into a floor, and how it is different from the vacuum cleaners that other competing firms offer. That way, the firm can provide website visitors with content that convinces the person to purchase the device from them for their cleaning needs. Moreover, enterprises need to inform website visitors about the procedures, such as turning the vacuum cleaner on or off, that they need to follow in order to operate the device effectively. That way, people can receive information about the operating procedures that they need to follow so that the vacuum cleaner can perform the cleaning job that the person wants the device to perform. Furthermore, businesses should place these pieces of information in a link that people can click on so that they can learn about how to operate the device on a separate webpage and not be overloaded by large blocks of text that talks about the item on a webpage where a person would rather see the image of a product. These steps are important procedures for organizations to follow because customers can lose trust with a business and may decide not to conduct business with that firm if people receive information about what the vacuum cleaner does to address their needs but do not receive information about how to operate the device so that the product addresses their needs ("Dunn. May 21, 2015."). In a similar situation, website visitors can decide not to visit that firm's website if they do not receive information about how to operate a product because they will feel that the firm is not providing them with information about the procedures that they need to follow to operate the product so that it can address their needs. As a result of this situation, they can lose trust with an organization and decide that it is not worth their time to visit the webpage of an organization who is not willing to show a person how to use a product in order for that good to address their needs.
There must be an about us webpage on an E-commerce firm's website that provides website visitors with the following information ("Dunn. May 21, 2015.").
The year that the firm was created.
The products and services that the organization sells.
How the organization helps its customers and potential clients.
How the enterprise's business has grown over the past several years.
How the firm's products and services differ from those of other competitors.
The goals that the entity wishes to accomplish in terms of addressing a customers' or potential clients' needs and providing effective customer service.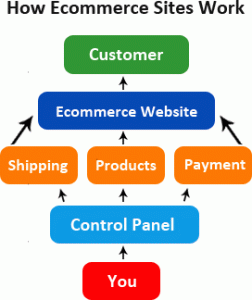 E-commerce companies must display these pieces of information on their website for a variety of reasons. For example, this content informs people about why they should purchase goods from that company compared with a competing entity. Furthermore, these pieces of information provide website visitors with information about what the firm does to address their needs. That way, website visitors can view an organization as being a reliable entity that can provide them with the products and services that are capable of addressing their problems ("Miletsky. 2010.").
Solutions Resource is aware of the type of content, such as images and social media icons, that go on an e-commerce website because the firm produces those types of websites for its markets. Therefore, the company can create a website that is effective at helping its clients and potential customers address critical issues, such as providing website content that entices people to purchase their products and increasing the amount of sales that they generate from the products that consumers purchase on their website. These problems are some examples of the many issues that e-commerce organizations face in terms of driving consumers to their website and keeping them on the website for a long time. As a result of these problems, Solutions Resource must stay informed about how an e-commerce website is designed as well as the different features, such as social media icons, that are placed on that website. That way, the firm can generate a layout of what an organization's website should look like in order to be effective at providing website visitors with information about the products that they provide including the procedures that a person needs to follow for operating them so that the goods are effective at addressing a person's needs. This strategy is also true for creating an about us webpage for a client that provides a client's website visitors with information about why the firm is in business. Additionally, this strategy allows Solutions Resource to develop a diagram for where website visitors will go when they click on a link or type keywords in an entity's search engine. Furthermore, Solutions Resource can provide the e-commerce businesses that it serves with recommendations about the type of content that they should place on their website so that their website will be effective at providing people with information about the products that the firm sells and why the enterprise is in business. Any organization that needs content for their e-commerce website that satisfies the needs of their audience should contact Solutions Resource at [email protected] to determine what the company can do to create a website that appeals to people buying products for their personal use. Finally, entities can visit Solutions Resource's web design and development webpage on its website to learn about the websites that the firm produces for its clients and potential customers as well as the process that the company goes through for creating e-commerce websites.
References:
"Monetizing Your WordPress Site. The Smart Way Seminar". Bob Dunn. May 21, 2015. 9:30 AM-12:30 PM. 555 116th NE, Suite 109, Bellevue, WA 98004.
"Principles Of Internet Marketing // New Tools & Methods For Web Developers" by Jason Miletsky. 2010. Course Technology and Cengage Learning (Represented by Nelson Education, Ltd). Boston, MA, USA, and possibly Singapore, United Kingdom, Australia, Mexico, Brazil, and Japan. ISBN-13: 978-1-4239-0319-2 and ISBN-10: 1-4239-0319-6.