Learn The WordPress Basics Seminar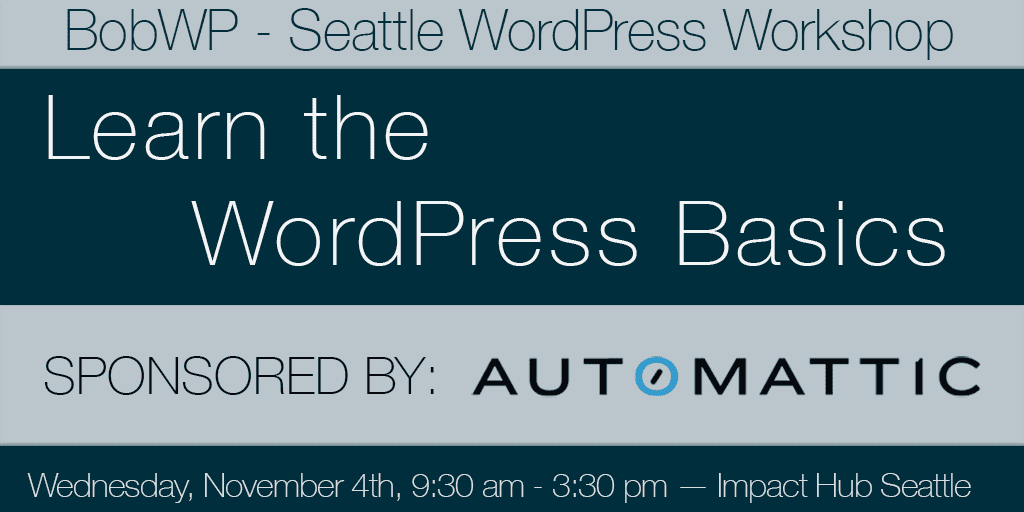 "About Learn The Basics WordPress Seminar"
On November 4, 2015, Bobwp.com WordPress trainer and coach, Bob Dunn, will offer a seminar called Learn The WordPress Basics ("Dunn, BobWP. 2010-2015."). Copyright Date Unknown."). The class will take place at the Impact Hub on 220 Second Ave South Street in Seattle, WA and will start at 9:30 AM ("Dunn, BobWP. 2010-2015."). Finally, the end time for this seminar will be 3:30 PM ("Dunn, BobWP. 2010-2015.").
"Information To Be Learned At Seminar"
Some of the WordPress features that organizations can learn about from attending the Learn The WordPress Basics class include:
Creating user friendly menus ("Dunn, BobWP. 2010-2015.")
Website themes that exist for WordPress ("Dunn, BobWP. 2010-2015.")
Adding plugins to a WordPress website ("Dunn, BobWP. 2010-2015.")
"Conclusion"
Organizations who are looking to use WordPress to create their websites or are new to WordPress should think about attending this session if they are in the Seattle area. That way, they can learn about the WordPress features that they can use to manage content on their WordPress websites, such as sharing WordPress website information ("Dunn, Bob WP. 2010-2015."). If these entities do not have time to perform these procedures, then they can contact Solutions Resource at [email protected] and have the firm perform these tasks for them. In conclusion to this information, people can place the Impact Hub's address into an internet mapping tool like Google Maps so that they can find where this place is located at. Similarly, a mapping tool like Google Maps will allow individuals and firms to receive directions for traveling to that place.
"References"
"Learn The WordPress Basics" by Bob Dunn and Bob WP. 2010-2015. Retrieved Thursday, October 29, 2015. Web.
("https://bobwp.com/event/learn-the-wordpress-basics/")