Boosting Business Website Seminar At BizFair On September 26, 2015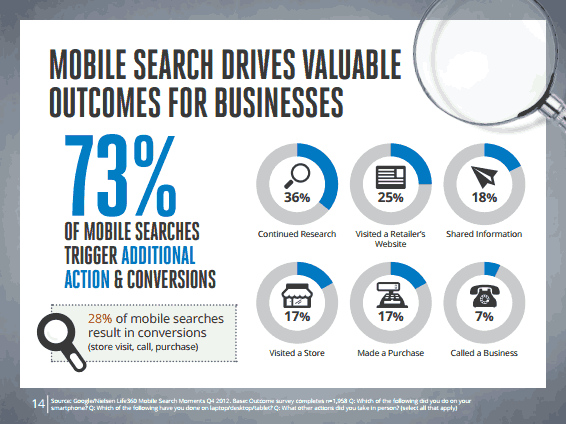 "Introduction"
People and organizations visit the internet to perform actions, such as purchasing a product ("Miletsky. 2010."). Those website visitors, however, are very busy consumers. Therefore, entities must test the amount of time that it takes for their website to download onto a computer or mobile device ("Rosemary. September 26, 2015, 8:29 AM-9:38 AM.").
"Test The Downloading Process of A Webpage"
Organizations should test the download time for their website. Jim Rosemary of NewTechWeb points out that webpages should download onto a device screen in a time period of five seconds or less ("September 26, 2015, 8:29 AM-9:38 AM."). Otherwise consumers can leave a website if it takes a long time to load because they do not have a sufficient amount of time to spend on the internet ("Administrator of Website Magazine. 03.21.2014.").
"Implications For Solutions Resource"
Solutions Resource can test the amount of time it takes for a webpage to download. That way, its markets can retain internet visitors on their website. Lastly, firms should visit Solutions Resource's website at https://solutionsresource.com/ to learn about the enterprise's web development services.
"References"
"Keys To Building A Business Boosting Website Seminar" Jim Rosemary, NewTechWeb. Biz Fair at Renton Technical College. September 26, 2015, 8:29 AM-9:38 AM.
"5 Reasons Visitors Leave Your Website" by an Administrator of Website Magazine. 03.21.2014. Retrieved Friday, October 2, 2015. Web.("http://www.websitemagazine.com/content/blogs/posts/archive/2014/03/21/5-reasons-visitors-leave-your-website.aspx")
"Principles Of Internet Marketing // New Tools & Methods For Web Developers" by Jason Miletsky. 2010. Course Technology and Cengage Learning (Represented by Nelson Education, Ltd). Boston, MA, USA, and possibly Singapore, United Kingdom, Australia, Mexico, Brazil, and Japan. ISBN-13: 978-1-4239-0319-2 and ISBN-10: 1-4239-0319-6.
By: Tyler Nelson-Administrative and Marketing Intern At Solutions Resource, LLC